Afternoon With Ray Turner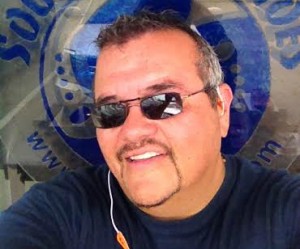 Name: Ray Turner
Hometown: Council Grove, Kansas
Tell us about your family? One of 11 kids, Seven Brothers and four sisters
Do you have any Children? We have 6 kids total, David 21, Laura 18, Jacob 16, Jessie 16 Ethan 12 and Addy 8.
What is your favorite thing(s) to do in Northeastern North Carolina: Swim, Fish and seating on the dock and drinking a Beer.
Any hidden talents? I can pick up things with my toes.
What was your first job? Throwing the News Paper!
What is your favorite food? Fish tacos
What was your most embarrassing childhood memory? My therapist has recommended that we not talk about that at this time, but thank you for asking.now get off my back about it.
What is your favorite movie(s): Super Troopers, Blazing saddles , Smokey and the bandit and Clear and present. danger
If you weren't at 102.5 the Shark, where would you be? At Home with My Jill.
What was the best concert you attend? Aerosmith /ZZ Top A to Z
What was the worst concert you attended? Kenny G 1997
Who is your favorite Shark artist: Dire Straits
What is your favorite Shark song: Dire Straits"Money for Nothing
What is your bad habit? Every day at 3:20 pm I play the same SONG!
What do you like best about working at 102.5 The Shark? Thee listeners, we have the best listeners.
Which do you prefer, crunchy or creamy? CREAMY!
Which do you prefer, boxers or briefs? Boxer briefs.
Which do you prefer, Chinese or Mexican? Mexican.
Share and Enjoy