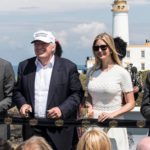 New York Attorney General Letitia James has filed a lawsuit against former President Donald Trump, three of his children and the Trump Organization, alleging an illegal scheme that amassed $250 million by fraudulently overvaluing assets. The civil lawsuit, filed in New York State Supreme Court, seeks to recover $250 million that James said was received through deceptive practices. James is also seeking to bar Trump and his children – Eric, Ivanka and Donald Trump Jr. – from serving as officers or directors in any New York company, and Trump himself would also be barred from entering any commercial real estate transactions or applying for loans for five years.
James said during a news conference, "I want to be clear, white-collar financial crime is not a victimless crime. When the well-connected break the law to take in more money than they are entitled to, it reduces resources to working people, to regular people, to small businesses and all taxpayers. Everyday people cannot lie to a bank about how much money they have in order to get a favorable loan to buy a home or to send their kid to college. And if they did, the government would throw the book at them. Why should this be any different?"
The lawsuit alleges that the Trump Organization deceived lenders, insurers and tax authorities in a fraudulent scheme that touched all aspects of Trump's business, properties and golf courses. The lawsuit also names former Trump Organization CFO Allen Weisselberg and longtime company executive Jeff McConney and includes 23 properties in the Trump Organization portfolio.
Trump lawyer Alina Habba called the allegations politically motivated and meritless, saying in a statement: "Today's filing is neither focused on the facts nor the law — rather, it is solely focused on advancing the attorney general's political agenda. We are confident that our judicial system will not stand for this unchecked abuse of authority, and we look forward to defending our client against each and every one of the attorney general's meritless claims."
Editorial credit: Christian David Cooksey / Shutterstock.com